---
06.05.2021 09:00 10:00 – Virtual
PhenomicsWebinars Q&A with Christophe Salon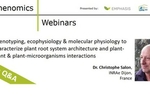 "Phenotyping, ecophysiology and molecular physiology to characterize plant root system architecture and plant-plant and plant-microorganisms interactions"
Prof. Christophe Salon
INRAe, France
The pre-recorded part of the session is now online!
Live Q&A with speaker:Â 6Â May, 9:00 CET
Watch the talk at your most convenient time, and join us for a live Q&A and discussion with the speaker.
Questions can be submitted at any time via email to ippn@plant-phenotyping.org in advance or during the live session.