---
24.11.2020 13:00 14:00 – Online
PhenomUK Seminar: Ubiquitous & Synchronous 'Roots & Shoots' imaging for Phenotyping & Controlled Environment agriculture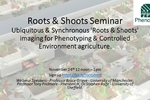 Following the first round of Phenom-UK pump priming funding, on 3D Active Multispectral Imaging (A-MSI) technology for crop canopy phenotyping, this Seminar will start by introducing and demonstrating that technology on a recently commissioned robotic gantry assembly, as installed in the new controlled-environment research glasshouse in South Manchester. This low-cost, modular and scalable sensing technology has been configured within this particular facility for phenotyping 24 individual small-to-medium sized plants (up to 30 to 50 cm in height), and arises through underpinning research between the plant science and engineering groups at the Universities of Sheffield, Manchester and the West of England.
The Seminar will then go on to introduce the complimentary low-cost, modular and scalable 3D Electronic Impedance Tomography (EIT) hardware which has also been recently engineered to non-invasively image crop roots and their interaction with nutrients and other electrolytes in visually opaque soils and growth media. The first example of which is located in the University of Sheffield and based on 8 modules configured to investigate root systems up to 50 cm deep and 30 cm in diameter, and arises through a lengthy history of related work between biological and engineering teams at the Universities of Sheffield, Manchester and Nottingham.
The formal part of the Seminar will then close out with the 'Phase-2' plans for early 2021, to deliver a single integrated demonstrator in South Manchester to synchronously monitor up to 2 dozen plants, from 'Roots-to-Shoots' with integrated A-MSI and EIT sensing (CGI Depiction of Concept: https://youtu.be/vj8Rv3Y2glQ). A ten dimensional dataset for each and every plant, tracking their responses to biotic and abiotic interventions temporally, spatially and spectrally above-and-below ground, paving the way to novel machine learning and control technologies.
The session will then open up to the attendees to seek advice on identifying & prioritising phenotyping opportunities and gaining ideas on necessary features required from such accessible 'Roots-to-Shoots' sensing approaches within the community's laboratories.
 
More Information & Registration