---
19.06.2023 09:30 21:30 – Ã…s, Norway
NPPN Field Day 2023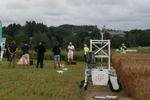 We are happy to announce that the registration for the NPPN Field day is now open. The field day will be held on the 19th of June in Ås, Norway organized by NMBU and Graminor. 
Registration deadline: May 20th 
We will start the day with some presentations at NMBU (Norwegian University of Life Science), afterwards we will be heading to the Vollenbæk Research station and experience some Field Demonstrations there. We will continue with a ferry tour to the Oscaborg castel and a nice dinner there as well. 
Program
Hotel
A number of rooms have been pre-booked from 18-19 June at Thon Ski Hotel. Please contact the hotel directly on ski@olavthon.no and use the booking reference "180623K" if you would like to reserve one of these rooms.
Deadline for booking one of the reserved rooms is 04 May 2023.
Registration
Participation is free of charge. This includes bus transport on the 19th  June, meals and the social dinner on 19th June. Hotel and additional transport should be covered by participants themselves.
Deadline for registration is 20th May 2023.
Program (PDF)