---
18.04.2023 - 21.04.2023 – Matera-Metaponto, IT
EMPHASIS Training Programme on Affordable Phenotyping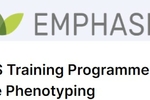 The course addresses early career scientists from academia and industry  and provides ample opportunities to interact with plant phenotyping scientists.
The training covers a wide range of plant phenotyping applications covering the entire phenotyping pipeline from experimental design, affordable hardware and software phenotyping tools including presentations and hands-on exercises.
For a detailed programme:Â see PDF.