---
18.03.2019 - 20.03.2019 – IPK Gatersleben, Germany
15th Gatersleben Research Conference (#GRC2019) on Applied Bioinformatics in Crops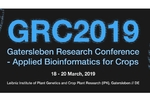 Registration closed.
This conference will be of interest to Life Scientists, Bioinformaticians, Computer Scientists, Systems Biologists, Synthetic Biologists and others working or interested in the developing area of Applied Bioinformatics for crops.
 
The program of the GRC2019-ABC is now online:
https://meetings.ipk-gatersleben.de/grc2019-abc/program/
 
There are 32 interesting lectures on the topics:
  - Biodiversity and Information Systems
  - Image-Based Data Analyses and Data Visualization
  - Distributed Computing, Tools and Infrastructures
  - Systems Biology and Modeling
  - Breeding Informatics
 
Registration possible until 31st January 2019!