---
12.12.2022 06:00 11:00 – online
NARO 2nd International Symposium on Food and Health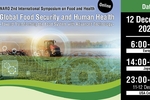 In December 2022, NARO will hold the second online international symposium focusing on "Food and Health". We will share research results and initiatives by research institutes and private companies around the world that continue to pursue the realization of "food security and health, " and aim to strengthen international collaboration in order to accelerate every activity from R&D to social implementation, and business development.
 
 
The symposium will consist of a keynote session and two discipline-specific sessions. In the "pitch" of each session, we will introduce distinctive initiatives by companies, networks, etc., and aim to match R&D needs. The aims of each session are as follow:
Keynote speech session:The first lecture will be given by an international organization on the current status and challenges of the stable food supply system related to "food security and nutrition." In addition, a lecture will be given on R&D strategies aimed at sustainable food production and a stable supply of healthy food, which are being implemented in the European framework program "Horizon Europe" through international collaboration.Session I: A food production system that fully utilizes data to balance production and the environment.We will introduce the challenge and practical examples of replacing agricultural production systems, which are becoming more uncertain due to population growth and climate change, with systems that achieve both productivity and environmental conservation through cutting-edge technology that makes full use of ICT, robotics, big data, and AI.Session II: Building a sustainable food system that supplies healthy food.The efforts of each organization aiming to build a sustainable food system that can provide people with truly healthy meals at any time from the perspectives of "food culture and health, " "global one health, " and "food loss reduction, " as well as the challenges of building a sustainable system by global food companies will be shared.