---
15.09.2019 - 19.09.2019 – Rostock, Germany
Botanikertagung 2019 International Plant Science Conference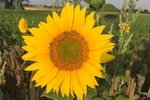 In eight plenary talks you will get comprehensive overviews on topics related to botanical research under the motto 'Plant life along gradients'. In addition, 21 symposia will address a wide array of basic and applied plant science.
On Tuesday, 17 September there will be a workshop on Plant Phenotyping.
The University of Rostock also celebrates its 600 years anniversary in 2019, a wonderful opportunity to attend the meeting of plant scientists worldwide at the oldest university in northern Europe. The local organizing committee designed a programme touching many fascinating and up-to-date research developments in plant science. 
More Information and Registration